Ok. I'm going to keep this race report short….
… not bloody likely!! 🙂
This was an epic event and deserves an epic report. I will avoid a blow by blow account of each gel but to try and give you a flavour of what it is like to race a 72hour event; the highs and lows, the bonds made, the experiences shared, the synchronisation of body clocks, the emotions, the pain and the pure joy.
This race started for us in August last year at the finish line of the Beast of Ballyhoura. I didn't make that finish line photo – this had to be rectified.
We worked hard this year, you've seen the reports, we were going in prepared and ready for a tough race.
We got one!
PART 1 – THE PRE-RACE PREPARATION
Tuesday – July 28th 2015
Team TriHarderAR made their way to University of Limerick and Kilmurray Village specifically from different corners of Ireland. Me from Galway, Shane from Dundalk, Kate from Laois and Mike from around the corner in Limerick. Kate had collected the house keys so we quickly unloaded our gear into the randomly selected rooms, got really excited about the race schematic in the booklet and had a chuckle at the ITERA 2016 card in the race folder – as if!!
Once settled we headed out for dinner up the road and met Shane there. A little bit of backwards thinking had us seeing the route in reverse but the most important thing we realised was that our game plan of "Mandatory Points" the only one we could consider. We mapped out timings for the proposed sections, realised we needed 86hours and started in with the knife to pare things back. **GULP!!**
Guesswork had us working back from the finish in Kilfinanne to a loop of Ballyhoura and a section in the Galtees, after that we couldn't see where the course was taking us. But we knew there were epic distances involved!! Working off the minimum distances suggested had us over on the timings so we (again) guessed the format would be different and we could do no more until Race Briefing tomorrow.
Into the PESS Hall to make up bike boxes and prepare our area for sorting gear. We left off packing up the bikes until the morning so we could be sure all was on board.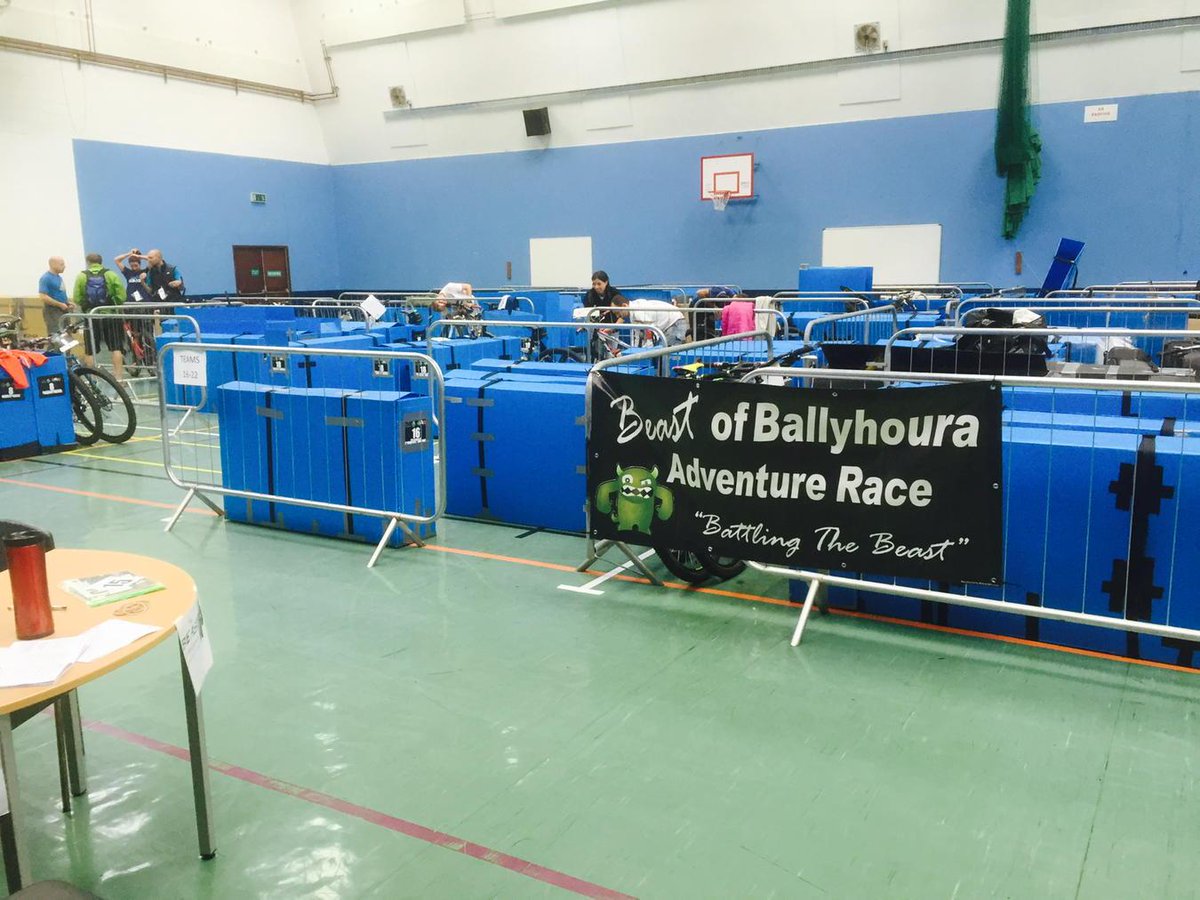 Home, a wee bit more chat, reshuffling gear and just before getting into bed I realised I had no wetsuit!!!
I was heading right back to Galway for it when Mike suggested his tri suit (sure what would he be doing with a triathlon suit anymore I wondered 😉 ) so a quick jaunt to his house, I have form for disturbing households after night so sat tight in the car while he negotiated the release of the suit and back to UL we went, for bed, tired after a long day and loads of excitement.
Wednesday – July 29th 2015
I was awake early due to 'mice' in the room across the hall from about 5am 😉
I lay reading for a while before being rousted to head over to the pool for a 'start the day the TriHarder way!!' with Kate & Mike. What a pool!! 1700m later we were chilling in a sauna before heading showered and dressed with really nice hair (:-) ) to meet up with Shane and grab breakfast in The Stables.
9:00 – 09:40 was our allotted time to have rope checks ie. ensure we put our harnesses on properly, clipped up the helmets and to show that we could clip into a belay / descender properly. Quite a surprise to recognise the army officer, Alan Mordaunt, there who I know from the shop. A quick chat and we were all signed off (or in) with rope competency.
Once the rope skills was over and done with it was back over to the PESS with kit bags and to pack the bikes before rambling over to Kilmurray Hall to register as a team. Sign Medical Questionnaires (obviously missing the bit about being of 'Sound mind'), pay for the post race showers and breakfasts and collect our 2015 ARES Championships race bibs. We were only interested in knowing if we could keep them after the race!! 🙂
Oh and the obligatory Team Photo:
After a quick lunch of something (not even sure we ate! Probably a coffee and bun) we were off to the race briefing at the Jean Monet Theatre. The tension and excitement was building.
A good sign was I navigated my way there without any problems and was seated before the rest arrived (again no idea why we spilt up but we did).
We were given an overview of the race before maps were distributed, or more correctly a stampede to the front meant the maps made their way back up to us via the Captains. We all settled down to listen to Ivan outline the course properly (as opposed to the summary) and there was a lot of detail.
We learned quickly that it was going to be a strategic race to run. In theory you didn't have to collect a single point. You could start in Curraghmore House Estate and make your way to the finish in Kilfinnane without collecting a point or accruing a penalty (as long as you followed the route). So it was time to consider the strengths and weaknesses of the team, work to those, hope to collect enough points and work from there.
A good long briefing before back to the house for a run through of the maps, outline some ideas, make more notes, adjust timings and out again to the race dinner at the Sports Pavillion!! Back to the house after dinner (lasagne & coleslaw) and we all got stuck into the route planning. We learned that this needs to be an inclusive operation. Yes only one of us can mark up, only one of us can correlate with the route book but the entire team needs to have input into the decision making process.
We all chose the routes we wanted and picked the Stages we felt were not going to be to our benefit. We focussed mostly on the big value points (1000) and ignored the bonus points or the 'all or nothing' orienteering sections. Not because we felt we would miss a CP but more because that 240 / 300 points was not worth it when that time might get us 1000 points elsewhere. We worked out our timeline and a backup plan.
At 20:20 Mike had a Captains meeting so I continued laminating our maps before we all went down to the hall one last time to close up shop and reorganise our kit bags which we discovered would be our individual food boxes too. Handy.
Be glad when this race starts to actually get a sit down for a while! 🙂
Home and bed. We're up early in the morning for a 5:30 start!!